The Basics of Blackjack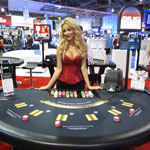 Blackjack is one of the simplest games to understand and follow. You can uncover its various strategies within minutes and play like a pro within hours. All you need to do is start off by learning the basic game play and create your playing strategies as you go along. To help you do so, SinCity Casino also offers free demo versions for every single blackjack game so that you can build your strategies before you play blackjack online with real money.
In blackjack, the goal of the player is to beat the dealer.
Each card value corresponds to its numerical value, while J, Q and K count as 10. Ace can be taken as 1 or 11.
The total hand value must not cross 21, or the hand goes bust.
The game starts with the dealer dealing two cards face-down to each player.
The dealer deals himself one card facing upwards and one card facing downwards.
Players can stand (if they are satisfied with the total value of their hands) or hit (if they want another card).
Once the player's hand is complete, the dealer needs to complete his own hand by reaching to a minimum of 17.
Any person who gets a blackjack (21 points with the first two cards) automatically wins.
The fun and thrill that surrounds blackjack has become a part of numerous movies, countless expert guides and thousands of player articles. There are all sorts of info that can be found online, and you can really come across some of the most outstanding guide that helps you learn how to play blackjack. SinCity Casino features different types of blackjack games that suit players with distinctive preferences. SinCity Casino also lets you enjoy your favorite blackjack games without making you download any of them. We even accept a wide range of deposit and withdrawal options that not only include the standard Visa and MasterCard options, but also incorporate a wide range of online purses and direct bank transfers. So take a gamble with your chips and win fantastic amounts of money if you're successful in calling the right bets.
The Variations of Blackjack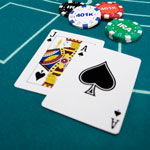 With more than 30 distinct blackjack games on offer, we certainly cater to different variations of blackjack. Some of the most popular blackjack variations found here include –
Classic Blackjack – Beat the dealer by getting as close to 21 as possible.
European Blackjack – Almost identical to a classic blackjack game, features a few European tweaks.
High-Roller Blackjack – Play like a pro at our high-roller portal, where the stakes are never low.
Live Dealer Blackjack – Enjoy a true casino-on-the-strip experience at with our live blackjack flash game with "real" players and a "real" dealer. Our live tables are known to rank among the very best in the world.
Important Blackjack Tips
Blackjack can easily be mastered and creating your own blackjack strategy is very simple. All you need is some practice and access to the right tips. The first thing that you need to learn is how to manage your bankroll effectively. The idea is to bet the money that you can afford to lose. It is equally important to preserve your bankroll until you are skilled enough to bet with real money. To help you do so, SinCity Casino offers free demo versions of each game where you can understand the game play and create your chart of betting strategies. While playing blackjack, avoid splitting the 5s and the 10s. On the other hand, always make sure that you split your 7s or 8s when the dealer's card has an equal or a lower value. Finally, start off your betting with a lesser stake before you move onto high-stakes betting. All you need is the right blackjack tutorial, and you should be able to master the game in no time at all.